Client - RAGE RVA

Team - Jimon B., Hannah V., Megan W., Cat T.
Mediums - Social, Digital, Collateral, OOH
[Fall 2019]


PROBLEM
People think that a rage room equates to place where angry and sad people go to take out their emotions and solve their problems. It can be that but when you want to build a brand that's simply a place for friends, couples, parties, and families to go to, making your company look like a therapy session isn't the best idea.


STRATEGY - BRAND PLATFORM + BRAND AWARENESS
Tap into people's fear of missing out through traditional and digital word of mouth. Create a campaign and brand platform that makes people need to know more about what is making their friends so happy.

CAMPAIGN CONCEPT WRITE-UP - J. BOADI & M. WATT (COPY)
Rage is very different from its definition. It's not being angry, it's being happy. It's not having a fit, it's having a fun time. It is an experience you can't get anywhere else in Richmond. There's simply nothing like hitting a car with a baseball bat, or a printer with a sledgehammer. It is bouncing around, laughing at everything and finally letting go. From confinements and expectations and everything, you think that you're supposed to feel. You can't look up the pur version of rage, you can only feel it. Because it's not what you'd expect. It's that thing you've never felt before but always wanted to. We use excuses to get by, when we really just want to feel something. Or feel nothing. We want to be fearless and driven to go to that place. The one you can't stop thinking about.
RAGE RVA. LET GO. BREAK FREE.



REBRANDING
The first step towards increasing RAGE RVA's brand-awareness was to update their current logo. We wanted to create something that was fun, modern, and sporty. The logo created easily fits into the entertainment world and we're happy about that. After speaking to the client, we also knew that the logo alternates should be flexible and stand for something more that just the brand. We knew that if we could create relationships with the consumer by sharing common beliefs the business would be more successful.


OLD LOGO + NEW LOGO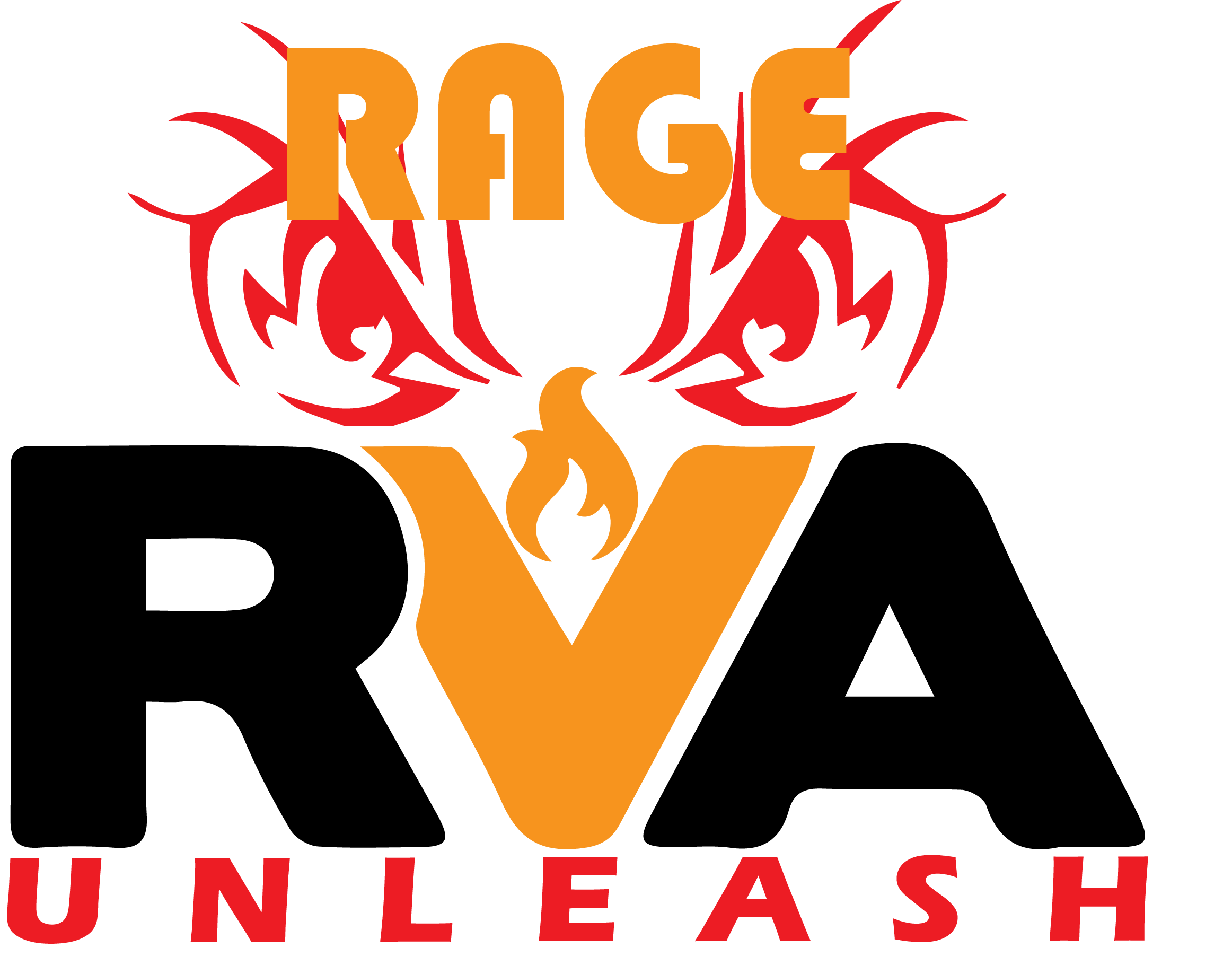 LOGO ALTERNATES

STATIONERY + COLLATERAL
In order to help build the brand, we decided to create stationery which would help the client in meetings with investors and in-the-future help them secure important partnerships.

V-FOLD BROCHURE





A4




BUSINESS CARDS + PUNCH CARD



SOCIAL MEDIA
The biggest part of the campaign was creating social media content. We were able to make a social media best practices sheet and also generate two-months worth of content. We had three executions which doubled as art for the company.

JUDGEMENT FREE ZONE - M. WATT (COPY) As a whole, Richmond is a judgement free zone, we created four flyers that could live online or in person to simply illustrate that point.



SOCIAL MEDIA MOCKUPS - J. BOADI (COPY)
We wanted to abandon the client's old way of making social media posts by creating a variety of banners that they could use on different occasions. We created over fourty different banners for them to use and are in the process of creating more (as of Oct. 11).